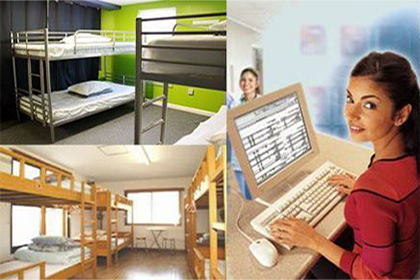 Dormitory Management System
Effectively Manage Tenant Information
Dormitory Management System
Dormitory Management System able to integrate with Access Control System to keep track of entry and exit of dormitory tenants. With the controlled of using Access Control System, only valid tenants are allowed to enter specific dormitory area, in which this can ensure the safety of every tenants in the dormitory area. Works well with biometrics devices like fingerprint or face recognition devices, together with tripod or full height turnstile to make sure only authorized person can be entered into the area and only one person per entry. Anti-pass back tripod and turnstile can be used if ID card time clock device is connected as to make sure no card passing or not authorized person can be entered to the specific dormitory area.
Dormitory Management System is a solution that allows users to manage tenant's information. Information such as their resident code, name, company, block, unit etc. It is specifically designed to fully integrate with our customer's dormitory system. We design the system to import tenant information directly from our customer's dormitory system. We use the latest MS SQL database to avoid database corruption.
Dormitory Employee Management System Features: Effectively manage tenant information
Able to seamlessly sync tenant information directly from database without affecting flow.
Unlimited storage of tenant information
Able to capture photo and store in database
Print badge card directly from system
Able to ban tenant from entering from a click of a button
Able to capture the Check IN and Check OUT date
Able to block the tenant from entering if their WP/Contract has expired.
Manage tenant template
Able to link to facial device and controller after syncing of tenant information
Auto broadcast of template after enrolling face template from enrolment unit
Auto delete tenant template once tenant has left the dormitory
Dormitory Employee Management System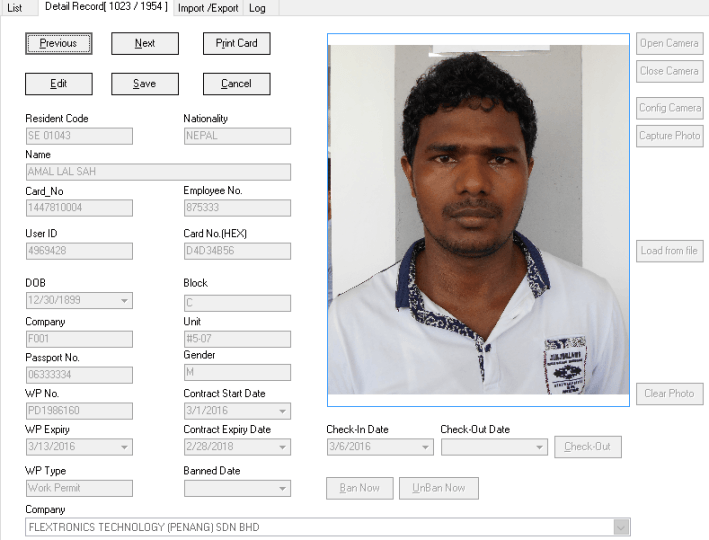 Transaction Report