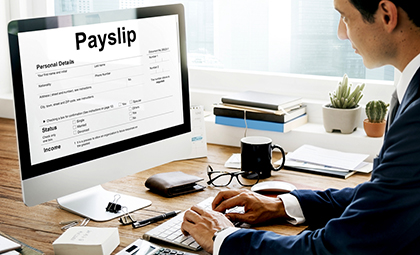 Malaysia Payroll & HR Software
One of the Best Fully Integrated Human Resource Management System
Malaysia Payroll & HR Software
Malaysia Payroll and HR Software by Smart Touch is a certified payroll software which fulfilled all the standards of payroll calculation set in Malaysia, which include all payroll calculation such as allowance, tax and EPF contribution calculations, SOCSO calculations, claims and so on. This turns the traditional manual way of payroll calculation to a new, simple and less hesitate way of doing job. With the integration of Time Management System, which replace the old and traditional timesheet, this successfully make the whole payroll calculation less time-consuming and easier. Biometrics devices which work together with Time Management System accurately records all attendance of staffs which able to avoid all unnecessary arguments and cheating. 
Smart Touch Technology Payroll Software is an integrated payroll software that applicable to all types of industry including service, manufacturing, construction, shipping, F&B and many others. Our payroll software is one of the most complete payroll software solutions for all small, medium and large organization which facilitate the HR, payroll, staff maintenance, time management system, leave management system and benefits to effectively manage the crucial organization asset-employees.
SQL SmartPay acquire latest technology-MS SQL database to meet the needs of large and small companies in payroll processing. MS SQL is a proven and reliable database that ensure processing payroll in more secure way and able to spending up payroll process.
---
Features
User define Popup Payroll Reminder: I. Payroll reminder alert for probation due date, work permit expire date and user define alert field. II. Assist Payroll officer to avoid overdue issue and penalty offence by local authority. – Probation due date, work permit, contract due date passport expire date and user define alert field.
Smart Mobile Application: I. Preview Salary thru Smart Mobile Application II. Allows employees to check current (Mid or End Month), historical statement in detail. III. Access via smartphone without frequent enquiry with HR Manager.
Multi User Network Access I. Centralized manage payroll part for multi Company. II. Handle by  more than 1 payroll officer in different plan.
Latest Technology I. MS SQL Database avoid database corruption problem. II. Integrated Smartime Attendance Management System (TMS) as well as other module such as eLeave, eScheduling, e-OT Approval, etracking System under V1SOHO Architecture.
Simple and Easy to Manage Function I. Friendly use command to add in, query and sorting data features. II. Prorate salary for new join and termination employee base on payroll period. III. Electronic file thru the major bank. IV. Build in report writer facilities user customize own report. V. Complaint to Statutory Requirement.
Service Support
We are able to troubleshoot specific technical errors and guide user to resolve common error via phone, online team viewer or on site service support.
Data Migration
Our experience programmer and support team will help to migrate your current in house systems via different migration technique to ensure  all your historical data for current year fully transfer to Mypay.
Implemetation and Configuration Services
Our consultants setting up necessary templates, integrated module to enable payroll service meet your requirement
User Trainings
Comprehensive trainings will be given with programs available for users at all levels.
Warranty and Maintenance
Smart Touch never leave you alone and promise to continuous serve our client with available program solution
Specifications
 
Operating System (Minimum Requirement)
– Windows XP, Windows Vista, Windows 7 32/64 Bit – Intel Duo Core or AMD ATHLON X2 or Higher, 2GB RAM – 16GB hard disk, LAN and Screen Resolution 1024 x 768 pixels or higher
Database
MS SQL Server 2005 Express or Above
Employee Headcount Limit
Minimum – 100, Maximum – Unlimited
Multi-user Access Network
Unlimited
Input Order
TMS / Excel Spread Sheet / Manual
Payment Mode
Normal Pay (Mid/End Month), Bonus Pay, Advance Pay and Other Pay
Overtime (OT) Support
Standard OT, Flat Rate OT and OT Ceiling
Pay Element Code
Unlimited Allowance and Deduction
Multi Company
Yes
Recurring Pay Element
Yes
EPF/SOCSO/Income Tax
Yes
Remotely Access
Yes
Smart Mobile Application
Yes
Online Bank File Submission
Yes (MBB, CIMB, PBB, RHB, and etc.)
Backup and Recovery
Yes
TMS Integration
Yes
Reports
Yes (More than 70 type of Report)
Report Writer
Yes
Payroll Reports
 
Payslip
Deduction Report
Pay History Report
Reimbursement Report
Pay History Report (U)
PCB Report
Payroll Summary Report
EPF Report
Payroll Summary Report in Details
SOCSO Report
Payroll Summary Report in Details (Group)
EPF SOCSO Report
Payroll Summary Report(U)
HRD Levy Reference Report
Overtime Summary Report
Variance Report
Overtime Summary Report in Details
Statistic Report
Allowance & Deduction Report
Year To Date Payroll Summary Report
Allowance & Deduction Report 2
Year To Date Overtime Summary Report
Allowance Report
Leave Reports: – Leave Summary Report – Leave Detail Report
General Reports
 
Employee Listing
Work Permit Report
Employee Details
Service Day Report
Fix Allowance and Deduction Report
Basic Rate Progression Report
New Join Report
Career Progression Report
Probation Due Report
Installment\Loan Report
Confirmation Report
Installment\Loan Report in Details
Resign Report
HeadCount by Date
Retire Report
HeadCount by Gender
Birthday Report
HeadCount by Basic Wage
Passport Report
Bank Reports: Bank\Cash Listing
Salary/EPF/SOCSO/PCB Online / Giro Transfer from Major Bank
Affin Bank Berhad
Alliance Bank Berhad
Alliance Bank Berhad
AmBank (M) Berhad
Bank Islam Malaysia Berhad
Bank Kerjasama Rakyat Berhad
Bank Muamalat Malaysia Berhad
Bank of America Malaysia Berhad
Bank Rakyat
Bank Simpanan Nasional Berhad
CIMB Bank Berhad
CIMB Islamic Bank Berhad
Citibank (M) Berhad
EON Bank Berhad
EON Finance Berhad
Hong Leong Bank Berhad
Hong Leong Finance
Maybank Berhad
OCBC Bank
Public Bank Berhad
Public Finance Berhad
RHB Bank Berhad
RHB Islamic Bank Berhad
Southern Bank Berhad
Standard Chartered Bank Malaysia Berhad
United Overseas Bank (M) Berhad