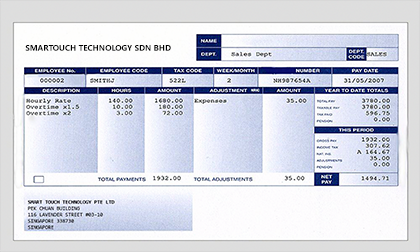 Payslip - RM228 PER BOXES
A pay slip is significantly beneficial for employee
Payslip
Payslip is a small document generated using Payroll Software like Smart Touch's Singapore or Malaysia Payroll and HR Software, by a company to show the facts about the pay of employees in details. Payslip must include both description and numerical data about the salary of an employee along with other information, such as; name of employee, his or her designation, name of employer, date of pay, month of pay, name of company. To all appearance, a format for pay slip should be drafted as a professional manner, because a pay slip is significantly beneficial for employee as it'll helps him to keep it as proof of having pay. Apart of this, a pay slip template will makes sure that employer has granted the pay to specific employee on certain date. Thus, this slip will use to account the right tax code of employee; seemingly it'll also assist the employee when he's applying for an insurance policy.
Payslip Must Content
Earnings before and after any deductions.

The amount of any deductions that may change each time you're paid.

Employers must also explain the deductions of any fixed amount such as, repayment of  loan. Can be choose to do this either on a payslip (paycheck calculator), or in a separate written statement.
This separate statement must be sent out before the first payslip. Employers must update this every year.
Sample of Payslips :
I. Payslip With Line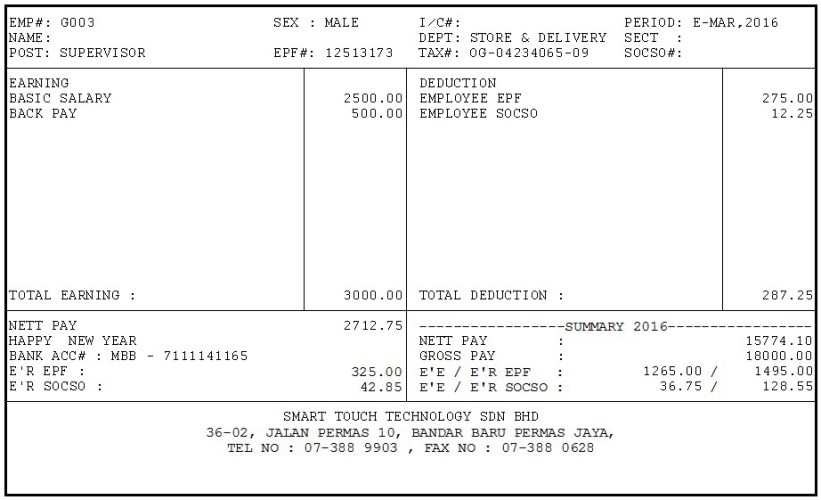 II. 3 Inch Payslip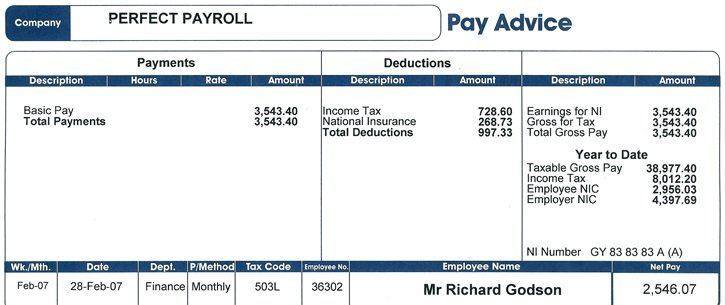 Issuance of Itemised Pay slips and Key Employment Terms with effect from 1 April 2016
Changes to the Employment Act (EA) requiring employers to issue itemised pay slips and key employment terms come into effect on 1 April 2016.

The objectives of these changes are to:

Improve employment standards; and

Facilitate the resolution of any employment-related disputes, should these arise.

For more details on the EA changes, please refer to Amendments to the Employment Act webpage.
Employers can tap on the assistance package for the following:

Blank payslips and KETs that can be filled in by hand.

Software for generating itemised pay slips.

One-to-one assistance for SMEs.

Funding.

As announced in August 2015, MOM will adopt a light-touch enforcement approach and focus on educating employers in the first year.