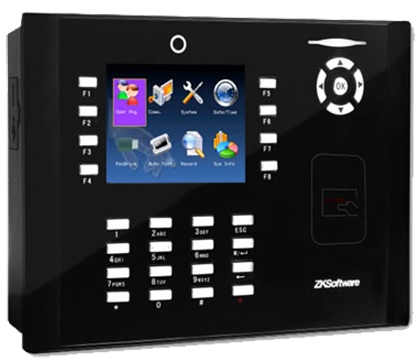 MIFARE Time Clock - S880
A multimedia proximity time attendance and access control terminal.
HID Time Clock - S880
MIFARE Time Clock – S880 support both Wifi and 3G mobile data connectivity, which make this devices portable and high mobility. Work perfectly with Time Management System and Payroll Singapore or Malaysia for attendance capturing and pay calculation. Can eliminated the traditional way of punch card system and tedious timesheet calculations. MIFARE Time Clock – S880 is a Time & Attendance terminal with incorporated proximity reader with 3.5'' TFT display and a camera. Easy to install, and with a modern design, it is the perfect solution for small installations. The color TFT display offer users easy menu management. It can connect to Time & Attendance management software by Ethernet or USB port, and also operate on standalone mode, downloading data by USB pendrive. 
Features
Built-in 1.3 mg pixel camera with high resolution

Built-in proximity card reader module enable foast and accurate verification.

3.5" TFT screen and integrated camera which make T&A application more visible

professional access control interface for alarm, magnetic lock, exit button, door sensor

Photo-ID function enables user-friendly with user's photo displayed

8 user-defined function keys

Embedded web server enable user to inquire data at local or remote via broswer

Built-in USB slot for manual data transfer when network is not available

Multi languange Optional: English, Spanish, French, etc

More helpful function like work code, t9 input method, short messege, bell schedulling, day-light-saving, self-service inquiry all standard

Optional integrated Wi-Fi or GPRS module available for wireless communication

SDK available for OEM customer and software developers
| | |
| --- | --- |
| Card capacity | 50,000 |
| Event Capacity | 150,000 |
| Hardware Paltform | ZEM510 |
| Operating System | Linux |
| Algorithm Version | ZKFinger VX9.0 |
| Camera | 1,300,000 Pixel |
| Display | 3.5" TFT LCD |
| LED Indicator | Red, Green |
| RF Card | Proximity (125KHz) |
| Communication Interface | TCP/IP, RS485/232 |
| USB Memory slot | USB Host |
| Output relay | EM Lock, automatic door |
| Wiegand | Input/ output |
| Identification speed | ≤0.8 sec |
| FAR | ≤0.01% |
| FRR | ≤0.0001% |
| Operation temperature | 0°C – 45°C |
| Operation humidity | 20% – 80% |
| Standard Functions | ID Card, Work Code, Photo-ID, Web server, SMS, Scheduled-Bell, T9 input |
| Optional functions | Mifare/HID card, Wi-Fi, GPRS |
| Languange | English, French, Spanish, … |