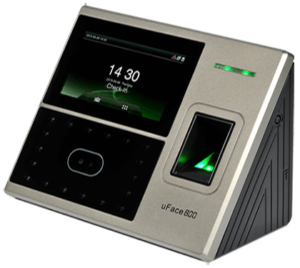 Face Recognition Device - uFace800
Upgraded Face Capacity and Performance
Face Recognition Device - uFace800
Face Recognition Device – uFace800 is content both face and fingerprint recognition function. Face Recognition Device – uFace800 can be used to link with Time Management System and Access Control System as identification terminal. If this face recognition device is integrated with Time Management System, it play the role as to identify whether is valid user and at the same time records all the attendance. After the attendance is calculated, use Payroll Singapore or Malaysia to calculate the pay. If integrated with Access Control System, face recognition device verified the identity of a user. Only valid user able to trigger the controller to unlock of a door, tripod, or car park barrier.
It comes with the latest platform and algorithm, uFace800 can store up to 1,200 faces and 2,000 fingerprint templates. It helps company to manage more employees with less terminals. Optional RFID card ensures that all customers have more choices to manage their time attendance and the access control.
uFace 800 also supports multiple authentication methods which are face scanner, fingerprint, password, RFID card and their combinations, which makes this device more applicable. Multi-model communications consisting of RS232/485, TCP/IP, USB host and Wi-Fi/GPRS (optional) which allow an extremely easy data management. Additional built-in 2000 mAh batterythe  eliminates the trouble of power failure. It fulfills your needs of managing the time & attendance and access control perfectly.
---
Features
Identification methods include Face, Fingerprint/RFID and/or Password
Elegant ergonomic design
4.3''TFT touch screen is user-friendly and very intuitive
Capacity: 1,200 faces and 2,000 fingerprint templetes
Intuitive touch screen GUI
Specification
| | |
| --- | --- |
| Display | 4.3′ TFT Touch Screen |
| Face Capacity | 1200 (1:N) |
| Fingerprint Capacity | 2000 |
| Logs Capacity | 100,000 |
| ID Card Capacity | 10,000 |
| 2000mAh Backup Battery | Optional |
| USB Host | 2 USB-Host |
| Communication | TCP/IP, RS232/485, USB Host |
| Wireless Wi-Fi | Optional |
| Time Attendance Standard Functions | Automatic Ststus Switch, Self-Service Query, Work Code, T9 Input, 9 Digit User ID, DST, Scheduled-Bell, Photo-ID, Multiple Verify Mode |
| Access Control interfaces for | 3rd party electric lock, door sensor, exit button |
| Wiegand Signal | Output |
| Optional Functions | 2000mAH Backup Battery, ID Card, Mifare card, ADMS, Wi-Fi/GPRS/3G |
| Operating Humidity | 20% – 80% |
| Operating temp | 0℃- 45 ℃ |
| Verification Speed | |
| Dimention | 193.6*165*111mm (length*Width*Thickness) |
| Gross Weight | 1.75kg |
| Power Supply | 12V3A |
Click here to download brochure : PDF Format